Lt. Arnie Wolff Remembered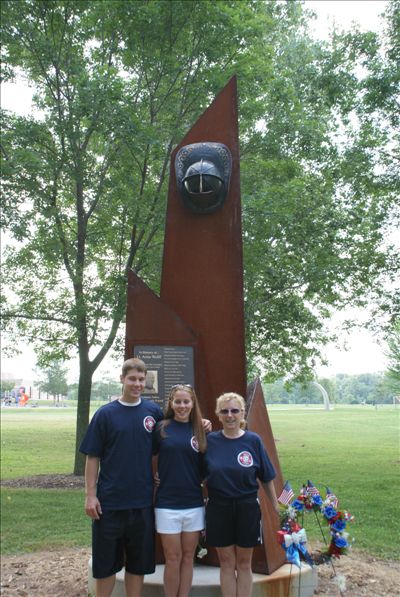 Wolff Family; Ryan, Catherine and Mary (Not Pictured, Eric) Photo by John Lawler, IAFF L-141
August 13th, 2009 dawned much as it did 3 years ago; a clear, sunny morning with just a hint of early autumn in the air. And like 3 years ago friends, family, and co-workers were drawn together to remember Lt. Arnie Wolff who gave the ultimate sacrifice in the performance of his duties when he was killed in a house fire on Edgewood Drive.
Lt. Pete Sponholtz, serving as master of ceremonies, welcomed over 100 friends, family members, neighbors, and co-workers to the ceremony at Wilder Park which placed the finishing touches on the sculpture erected in Arnie's honor as a large bronze fire helmet was added. Lt. Sponholtz recalled the efforts of the Wilder Neighborhood Association in honoring and recognizing Arnie, students from Wilder Elementary for their design efforts and students at Edison Middle and Preble High Schools for assisting with fundraising. Also recognized was sculpture Ned Cain who created the steel and bronze sculpture.
After a brief statement by Fire Chief Jeff Roemer, Mary Wolff thanked those in attendance as she vividly recalled that fateful day 3 years ago. She also thanked her family and neighbors for their support since Arnie's death. Following her remarks, Firefighters Drew Spielman and David Siegel placed the large bronze replica of Lt. Wolff's helmet on the sculpture effectively completing the project.
Said Mary, "This is a nice tribute to Arnie."
Download:

a.jpg